Available Lab Puppies for sale in Kansas City Missouri
There is a $200.00 non refundable deposit to hold your choice and these pups will be sold on limited registration for $1200 ( Unless otherwise discussed in advance. )
I don't take any deposits until puppies are born. I try to make a penciled in list to be able to take deposits when puppies are born. Once post the litter and on FB it will be time to take deposits.
Current Litter is Sold Out.
Thank you so much for checking our website and looking at our available litters. We just sold out of our current litter. We won't have any new litters until the springtime.
Recommendation:
However, we do have friends with puppies on the ground and puppies that will be ready for Christmas. Please check out http://soonerlabs.com . They are in Oklahoma but will drive up north as far as Joplin to deliver you, your new puppy. They too have some of the highest quality Labradors in the midwest and I recommend them wholeheartedly. Ask for Destry and tell him Jason from Dawson Lab's sent you!
This is one of his import males he uses to make stunning puppies!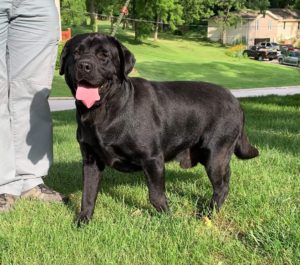 Availabl
ble Lab Pup
s for sale in Kansas City Missouri.
Puppy Availability
We normally have availability in the Spring and Fall or Winter time. Since we only have 1 – 3 litters a year we don't really like to make out waiting list, many times people find a puppy before we have one available. If you want to wait we are happy to let you know when litters are coming and keeping in contact via Facebook is one of the easiest methods to ensure you get on the list when the pups are actually born. Either way let us know if you're interested we would love to talk to our future fur friend family members in advance!
Available Lab Puppies for sale in K